Your project poster is a visual representation of your research paper. It should include all the elements of your paper (introduction, topics, conclusion and bibliography) in addition to graphics.
Design
A research or professional poster should communicate information to the viewer without the accompaniment of a speaker. In most cases, a viewer will spend only a few short minutes observing the poster, so it important that the poster conveys the most significant information or details in an efficient manner. This is why it is essential that the poster is clean, well-organized, and concise. Do not copy and paste your
The excellent poster to the right presents findings from ecological research conducted in Glacier Bay National Park by students and faculty at the University of Alaska. Consider the attributes that make this a successful poster.
Right away the title of the poster conveys a significant amount of information. We know immediately that the research addresses the sleeper shark, and that the shark is a potential predator of the harbor seal. We do not need to look for the researcher's names, and the inclusion of a photo of the researchers give us additional, albeit superficial, information about them. The University of Alaska and National Science Foundation logos tells us about the hosting institution for the research and their funding sources.
The logos are an excellent example of the way that an image can provide a more effective means of communication information than words, especially under circumstances with limited space such as a research poster. The poster makes great use of graphics to communicate research data, pinpoint the location of research on a map, illustrate the environmental setting, and capture a moment in the research process. Images are a great way to break up text so that it does not overwhelm the viewer.
Too many words, or dense text, and disorganization will discourage the viewer from attempting to read and digest the information in your poster. This is why it is important to ensure that the elements on your poster are clean, clear and well-organized. In English reading cultures, most people read from left to right. It therefore makes sense to organize the elements in your poster from left to right beginning with the introduction and ending with the conclusion. If aesthetics and design is not your thing, there is no need to worry. Programs such as Powerpoint include a wide range of templates that you can download for free. In addition, many universities publish templates with tips such as this template provided by the University of Minnesota. To download a Santa Fe template, visit: https://www.sfcollege.edu/rue/poster-resources/index.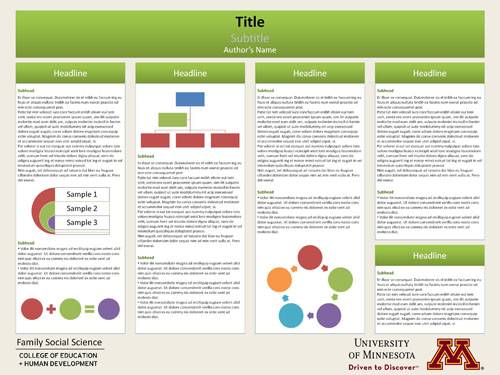 Keep in mind that it is not necessary to include everything from your papers. Think of the poster as the movie trailer to your country. It should only include significant tidbits as a way to bait and hook your viewers and compel them to conduct their own research about your selected country (starting with the references that you included in your poster) and thereby opening their mind to African Humanities.
It does not matter which program you use to produce your paper, provided you can save the image as a jpg. Powerpoint, Microsoft Publisher and Prezi are simple and powerful tools to use. (Prezi has a bit of a learning curve.) Adobe Illustrator and Photoshop can produce amazing posters, yet they are not easy to learn within a short amount of time. Given the limited amount of time available to produce the poster this semester, it might be best to stick with a program you are already familiar with.
Click on the links below to watch one or more poster-making tutorials using software programs found on most computers at Santa Fe College.
There are also a wide variety of free online programs to create research posters and infographics. Visit the websites below for more information.
After you have decided on the program that you will use, review the assignment description for the research paper to be sure that you include all of the expected elements. Use the checklist below to ensure that you do not forget anything. Every semester at least one student forgets to include their name – one of the most important elements. It is also important to include the date. By now you should know that African cultures are dynamic and always changing – yet your poster will remain the same. By including the date, you are referencing your information to a particular time and will enable your poster to remain useful for many years to come.
Final Poster checklist:
Title & Subtitle:
Details: Date, Name, SF Logo, HUM2420, etc.
Introduction: This section includes your thesis statement and introduces what is in the poster. (Should be at the top or top left.)
Socio-Historical Context: This section covers history and can be in text or timeline form. (Should come after the Introduction)
Three topical sections: These are the points addressed in the thesis and introduction section.  They must have at least one graphic.
Conclusion: This section wraps up the poster,
Graphics: Every poster must have a map showing location of country and images of people (humanities). Other useful images can include charts and graphs (ie to show demographics), and other relevant images (album covers, archaeological sites, etc.) ALL images must be cited.
References: Must be properly formatted, scholarly, and cited in-text
For Discussion: Submit a finished version of your poster for peer review. Save the poster as a jpg and embed it in the discussion post. (See the Canvas guide link in the syllabus for instructions if needed.) Be sure to save the original version of your poster so you can go back and revise after receiving feedback. Using the criteria described in this lesson, provide constructive criticism to at least three other student posters on ways to improve their poster.
After completing the peer review, revise your paper and poster and upload the final versions to Canvas to receive a grade. If you did not submit a paper or poster for peer review, it is still a good idea to read the critiques so you get a sense of how you can improve your own. If you have not taken the Final Exam, be sure to submit it prior to the deadline. When you complete the project and exam, go to the Takeaway page in this website.